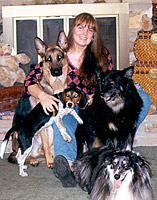 About me. Boy, now that's a topic for discussion. Let's skip all the yucky parts and just talk about the fun stuff. I've been making dolls since I was in my twenties. Ok, quit counting on your fingers. My mother is an excellent seamstress. She taught me a lot about sewing. I could learn from her forever. She knows how to do all kinds of stuff and loves to experiment and be creative. I remember her color combinations used to puzzle me. I didn't see how she figured all those colors went together. Now, I get it! It's a lot of fun mixing and matching what others might think odd.

I used to sew my own clothes when I was a senior in high school but my interest in crafts and dolls didn't come along until later. Now you can't pay me enough to make my own clothes. Dolls are way more fun. I remember the first doll I ever made. She was a big black doll with a purple print dress and muslin pantaloons. She had a very simple face stitched with embroidery thread and yarn hair. At the time I thought eeechhh I did a horrible job on her and gave her away. Who knows where she is today but I have always wished that I had kept her. Talk about primitive. I did it without even trying. Now I have to work at it. *L* I still have the pattern I used to make her. Maybe one day I will try to make another one just like it.

For years I made all of my dolls from patterns designed by other people. I designed my very first original doll in 1994 but it wasn't until 1998 that I started making original dolls from my own designs on a more regular basis. When you set out to do something you have never done before you sure do learn a lot. It's been a fun experience and I will always continue to learn and grow as I design.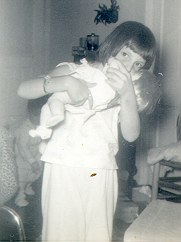 You are never too old to love dolls. I have put a picture on here of me playing with my doll when I was a little girl. I didn't play with dolls as much as most little girls do. I was kind of a climb a tree and ride bike little girl. But there is always hope and I am making up for my lack of interest in dolls as a child now. It's one of the most enjoyable things I do. I love to make dolls and I love dolls that have been made by others. The work of others can be so inspirational. It reminds us of how different we all are. It makes life much more interesting don't you think?
Have a very nice day and thanks for looking.

Click Here - If you would like to read a very sweet email from my mother!